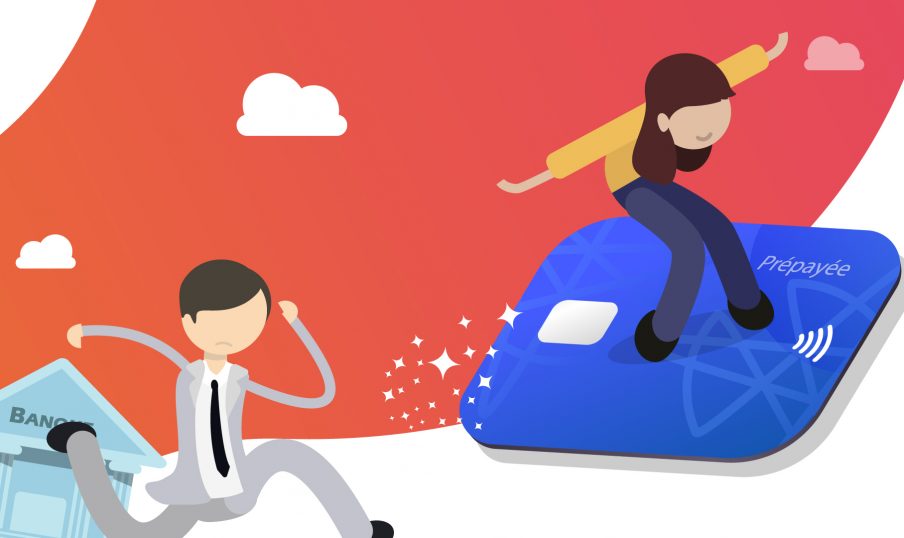 As the years go by, your child is slowly coming into his own and is ready to reach the age of financial independence. Do you want to give them more freedom by offering them a payment solution adapted to their needs? Accessible to minors, the prepaid card is a practical and safe solution for your teenager. In this article, discover all the advantages of a prepaid card for young people.
What is a prepaid card?
The prepaid card is also known as a reload card. It is a card without a bank account, which allows an alternative management of its money.
An independent payment card
Unlike a traditional bank card, the prepaid card is not linked to any bank account. However, it offers the same possibilities of:
Withdrawals at ATMs;
Payments in stores;
Payments on the Internet;
Transfers (sending and receiving).
A payment card that can be reloaded according to your needs
The prepaid card, or reloadable payment card, works with money reloads made by transfers or via the purchase of reload coupons. The available balance on the card determines the payment capacity. If the amount previously loaded is less than the value of the purchase or withdrawal requested, then the transaction is blocked.
Offered by certain banks, neobanks and specialized providers, the prepaid card is accessible to everyone without income requirements and without commitment. The prepaid card is therefore particularly suitable for young people. As a parent, it's the perfect solution if you want to give your child a little more independence, whether he or she is a teenager or a young adult!
What are the advantages of a prepaid card for minors?
Does your teenager regularly need money for meals out, movies, shopping or occasional purchases? Do you think it's time for them to manage their expenses independently? Discover all the advantages of the prepaid card.
Secure payments
Entrusting your teenager with your own bank card for outings is not really an option. In fact, it exposes you to even more risks.
On the other hand, by giving your child access to a prepaid card, you gain peace of mind! Your teen doesn't have to carry cash around anymore. Their prepaid card is safely tucked away in their wallet and can be used to pay for everyday purchases in stores or online.
Most prepaid cards are also equipped with 3D Secure security, allowing payment to be validated by a code received by SMS. And in case of loss or theft, only the amount available on the card can be used, without any access to a bank account.
A controlled budget with the prepaid card for young people
Between meals on the run, leisure activities and outings, young people's expenses go fast. As a parent, do you provide the money for your child's expenses? Then using a reloadable card will give you much more control over your child's budget.
All you have to do is load the card with the desired amount for the day, week or month. Your child then manages his or her payments and withdrawals until the balance is exhausted. Then, the card is blocked. With a prepaid card, there is no risk of overdraft. At each transaction, the balance availability is checked. If the amount of money on the card is insufficient, the payment is not allowed. The prepaid card allows young people to learn how to manage a budget without risk. In addition, you have real-time access to transaction tracking from the application associated with the card.
Prepaid card for young people: synonymous with freedom and autonomy
Is your child a minor and not yet able to open a bank account? The prepaid card allows them to easily manage their expenses like an adult, without having to open a bank account. Once the card has been reloaded, they can use it independently.
For young people who work and benefit from income related to their summer job or student job, then the use of a prepaid card is also very useful to control their expenses without having to open a bank account. Salary and/or social benefits can be paid directly onto the reloadable card totally free of charge. Some prepaid cards are indeed associated with a RIB, allowing you to receive transfers, without additional fees.
To gain peace of mind and allow your teen to take a step towards managing their money, you can opt for a PCS prepaid payment card. An adult will have to purchase the card in his/her name, as well as reload it, but this way you are giving your teenager responsibility and teaching him/her to manage his/her money. For more information, please check out our FAQ.
The prepaid card for young people is therefore very useful to reinforce their security, teach them how to manage a budget while keeping an eye on their spending. You can easily find reloadable cards online, in tobacco shops or in some department stores.