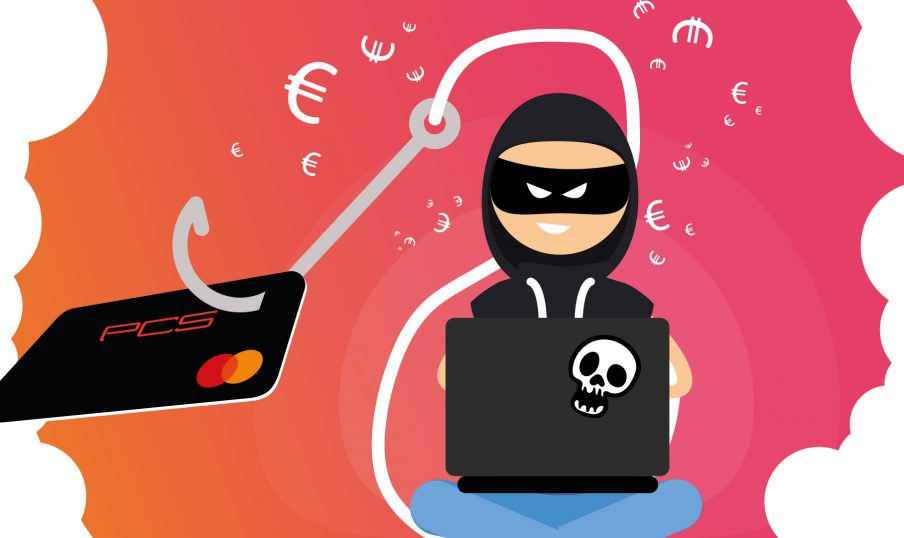 With the development of Internet purchases and payments, online fraud has unfortunately also increased. Indeed, many scammers do not hesitate to imitate official websites or to impersonate others to get your banking information and use it. So what are the most common online scams? And how can you protect yourself on the Internet? We give you the easiest ways to avoid Internet fraud in this article.
What is Internet fraud?
You are probably already familiar with the most common physical credit card frauds: the "collet marseillais", which makes the user of an ATM believe that his or her card has been swallowed, or the simple fact of stealthily writing down credit card information in order to use it fraudulently. However, even if you are already careful with your PIN and do not disclose your card information to strangers, you can still fall victim to an Internet scam.
Using a credit card on the Internet is risky: by paying, you disclose your card information that can be intercepted by a malicious person. In addition, it can be difficult to distinguish a legitimate website from a fraudulent one, as scammers are so ingenious at imitating trustworthy websites. You can become a victim of online fraud at any time by simply shopping on an e-commerce site.
What are the most common types of fraud?
There are a wide variety of Internet frauds and scammers are constantly reinventing themselves using more and more advanced technologies. Nevertheless, some of the most common frauds are very well known, which makes them easier to spot and avoid. The first step in learning how to protect yourself on the Internet is to detect fraud!
The "phishing" technique
You have certainly already heard of "phishing". It is indeed one of the most frequent types of scams on the Internet. As the name suggests, this technique consists of "fishing" for victims by sending thousands of e-mails or SMS messages imitating a trustworthy institution that requires your bank details. Not being careful, the victim then clicks on a link inviting him to regularize his situation by entering his banking information again. From your personal bank to the tax office, via famous e-commerce sites, phishing messages are varied and do not hesitate to imitate well-known establishments (threat of electricity cuts, bill surcharges, big winner of a competition etc.).
Fake e-commerce sites
Some fraudsters create their own online sales site with the unfortunate aim of
malicious purpose. Indeed, when the victim buys on the site, the fraudster collects the payment without any intention of sending the purchased product. The scammer then uses delivery or stock problems as a pretext to delay the buyer's reaction and keep his trust as long as possible before disappearing with the amount paid.
How to protect yourself on the Internet?
Fortunately, it is possible to protect yourself from Internet fraud by taking a few precautions before making an online purchase. By adopting some simple reflexes on a daily basis, you will avoid giving out information about your bank account or becoming a victim of a potential scam.
Limit the use of your bank card on the Internet
One of the easiest ways to avoid online fraud is to simply not use your credit card on the web. Indeed, there is no such thing as zero risk in computing, and your personal information such as your password can be retrieved by a third party using spyware, software installed without your knowledge on your computer or your smartphone. If you want to make online purchases without using your credit card, you can use a prepaid card. Since a rechargeable payment card is not linked to a bank account, it is safer to use it online.
Choose well-known e-commerce sites
By going to online stores that are not often visited by other Internet users, you increase the risk of coming across a fraudulent site. Therefore, choose well-known websites, and systematically research the seller before making an online purchase to make sure that you are well protected at the time of payment. This will allow you to gather opinions from other users and to know if the purchase experiences went well. Also, you can check the URL of the site to see if the connection is secure (there will be a small padlock in the top left corner).
Ignore suspicious emails
If you notice that an e-mail or text message from your bank or an official institution has spelling mistakes or comes from a strange e-mail address, ignore it! It is probably a phishing attempt.
Don't give out information about your private life
Always keep in mind that the information you share on networks is stored there and is visible to a large number of people. So, never share confidential data such as your address, your identity papers, your passwords online and on social networks. More generally, avoid sharing information that is too personal to limit the risk of identity theft! Also, change your password regularly to ensure the security of your various accounts.